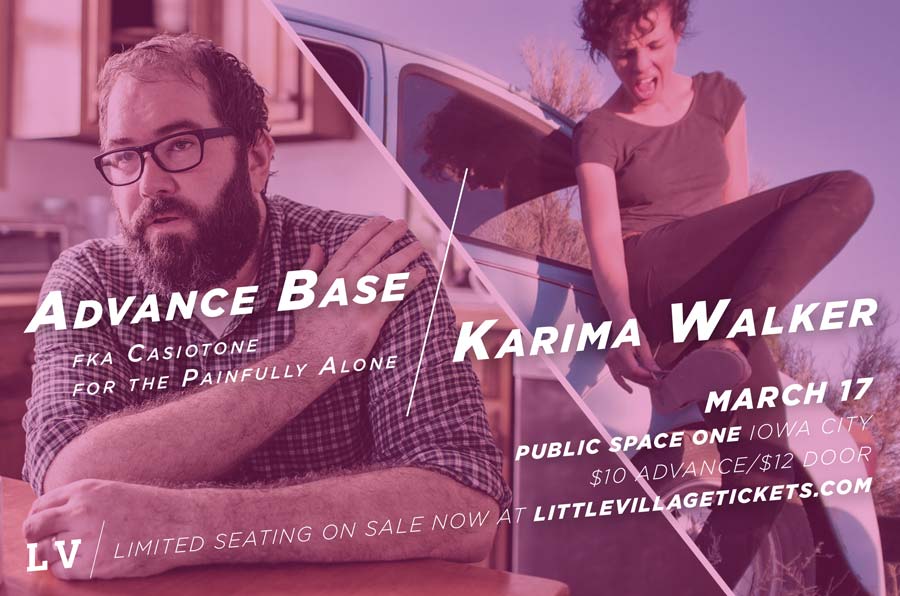 An evening with Advance Base and Karima Walker
Owen Ashworth used to release his lo-fi keyboard pop under the name Casiotone for the Painfully Alone, but these days he calls it Advance Base.
Walking the line between electronic music and traditional singer/songwriter forms, Ashworth writes minimalist, heavy-hearted and nostalgia-obsessed songs of longing and regret. His conversational, baritone vocals sing stories of hard-luck Midwesterners and their demons amid swirls of electric pianos, Omnichords, drum machines and samples.
Advance Base's second album, Nephew in the Wild, was named #1 Indie Pop album of 2015 by PopMatters.
Karima Walker's desert-blues sound rises like a mirage emanating from the fringes of Tucson and Tempe, Arizona. Layering field recordings from the desert and from the city with her own haunting vocals and instrumentation, unpredictable structures emerge — often rooted in blues, and just as often drawing from experimental approaches.
Very limited tickets will be sold for this intimate, seated event. $10 advance, $12 at the door.