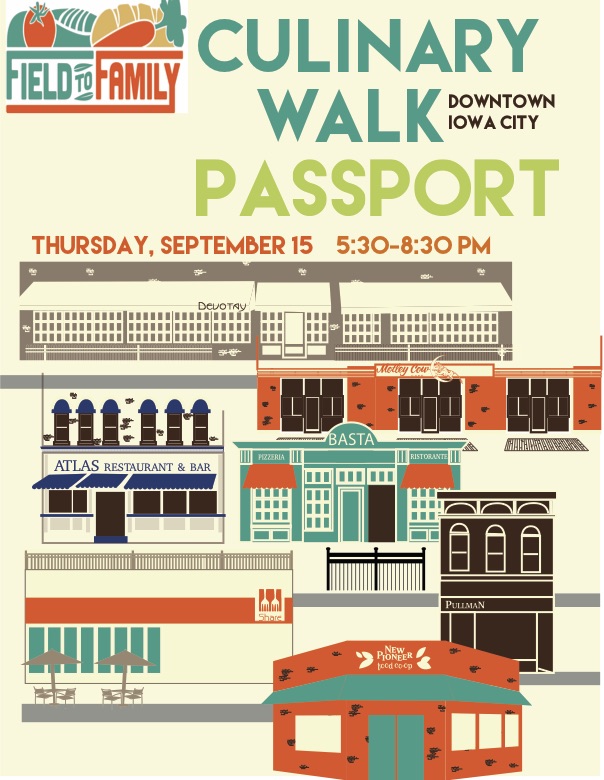 2016 Culinary Walk
Thu, Sep 15, 2016 from 5:30pm - 8:30pm
The Culinary Walk is an annual delicious fundraiser for Field to Family featuring seven downtown restaurants. Walk with friends and sample culinary treats from local restaurants featuring ingredients from local farmers. The following restaurants are on the 2016 Culinary Walk:
· New Pioneer Food Co-op
· Share Lounge & Wine Bar
· Pullman Bar & Diner
· Atlas World Grill
· Basta
· Devotay
· Motley Cow Café
The Culinary Walk is part of the 2016 Local Foods Festival events during Eat, Drink, Local Week from September 11-17, 2016, in celebration of seasonal, locally-grown foods, local farmers and culinary excellence while bringing the community together in support of a stronger local food system.

Support for the annual festival goes towards Field to Family's Local Food Finder and Farm to School programs. Local Food Finder is an online resource that connects eaters with growers. Farm to School works to teach kids where their food comes from, increase the amount of fresh, local food that students eat and increase the number of students who learn the components of a healthy and sustainable food system.